Republican lists tough actions on undocumented migrants in Iowa speech and says claims of deportation flip-flop show media has missed the whole point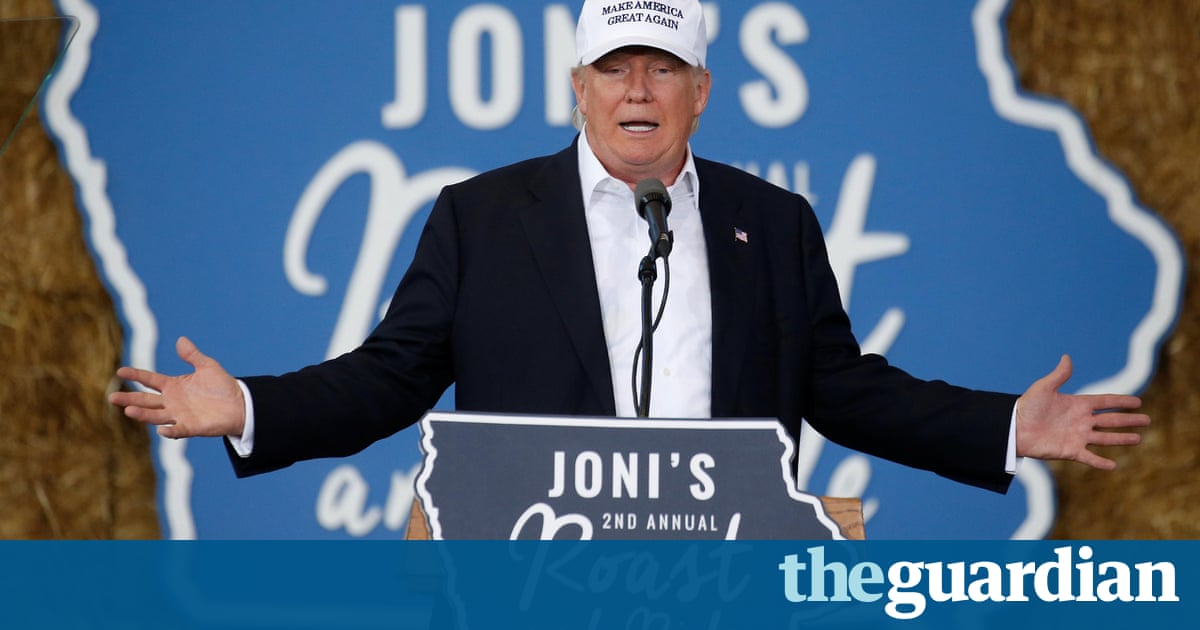 Donald Trump on Saturday spelled out new details of his immigration policy. He did not, however, answer lingering questions about whether or not he favors deportation for all undocumented migrants.
Speaking at a fundraiser for the Iowa senator Joni Ernst, the Republican nominee for president went beyond his now famous promise to build a wall on the border with Mexico.
If elected, he said, he will institute nationwide E-Verify, stop illegal immigrants from accessing welfare and entitlements, and develop an exit-entry tracking system to ensure those who overstay their visas are quickly removed.
Although these policies were in an immigration plan proposed in August 2015, they have been rarely addressed since then, as the real estate developer as gone from long shot to major party nominee.
Trump offered no clarity on whether he would after all push for the deportation of all 11 million undocumented migrants currently in the US, a long-term and successful campaign promise. Uncertainty on his stance on the issue took hold this week, after he reportedly told Hispanic leaders at a roundtable meeting that he might be willing to support a path to legal status.
Trump subsequently told Fox Newss Sean Hannity that he would be willing to allow undocumented immigrants to stay in the US.
Theyll pay back taxes, he said, they have to pay taxes, theres no amnesty, as such, theres no amnesty, but we work with them.
Of his views on the immigration question, he added, there could certainly be a softening.
The Republican nominee had long pledged to support a deportation force to remove all 11 million undocumented migrants. On Thursday, he seemed to flip-flop on the issue again, telling CNN: Theres no path to legalization unless they leave the country. When they come back in, then they can start paying taxes, but there is no path to legalization unless they leave the country and then come back.
In Iowa on Saturday, Trump attacked the media for focusing on the deportation question instead of other aspects of his immigration policy.
He said: In recent days, the media as it usually does has missed the whole point on immigration. All the media wants to talk about is the 11 million or more people here illegally.
Trump claimed that law enforcement agencies knew about every single illegal immigrant, the good ones and the bad ones, and said that on day one of his administration all criminal illegal immigrants will be swiftly removed.
The deportation of illegal immigrants who commit crimes has bipartisan support and has long been a priority of the Obama administration.
Trumps campaign has suggested that he will soon deliver a definitive immigration speech, clearly stating his position.
Read more: https://www.theguardian.com/us-news/2016/aug/27/donald-trump-immigration-policy-deportation