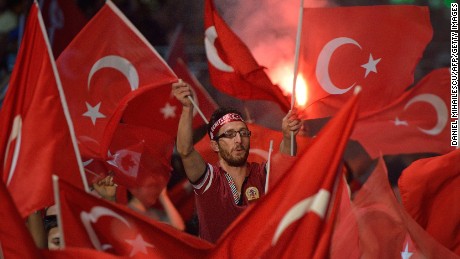 Istanbul (CNN)The power of the President to call up massive crowds of supporters has been on clear display in Istanbul's Taksim Square every night since last week's failed coup.
"Work during the day, and come to the square at night" is the message put out by the government of President Recep Tayyip Erdogan. "The threat is not over."
As evening comes and the summer heat begins to ebb, the crowds start to trickle in. It becomes intensely loud each night, with the honking of horns seemingly by every passing vehicle. By the time it's dark, the square appears red, blanketed in a patchwork of Turkish flags that are handed out for free.
But the events of July 15 cut deep. So deep that some are even having serious conversations about moving away, checking out jobs in Italy, sussing out real estate in Greece, or at the very least trying to put together a plan B.
This is not a nation displaying its resilience in the face of a terrorist attack, as Turks have done in the past. This is not a nation that can bury the dead and try to move on. This is a nation in uncharted territory.
Hulya Gedik, a young woman, could not hold back her tears when we met at one of the mass funerals over the weekend.
"Every bit of news we got that night (July 15), every explosion was not something that was just happening outside," she explained. "It was as if each one tore our soul apart."
Read more: http://www.cnn.com/2016/07/20/europe/turkey-after-coup-attempt-soul-searching/index.html