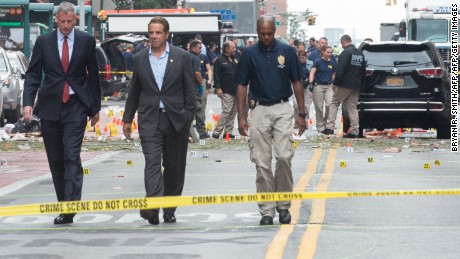 (CNN)New Yorkers who live near the site of a powerful explosion in Manhattan waited to get back in their homes Sunday and exchanged stories about the frightening moments after the blast.
As they waited for further word on the cause, people who felt and heard the detonation said they had been shaken but would carry on with their lives.
"I feel a little bit insecure, but we have to do what we have to do," said Omar Len, a real estate investor who was visiting a friend on Saturday night in the building directly next to the blast site.
"There's nothing you can do, really," Len said. "You have to read their mind in order to prevent this. Anybody can be around us that has that mentality. Our lives continue."
The explosion, which injured 29 people, rocked the Chelsea neighborhood at 8:30 p.m. By morning, authorities had reopened most streets nearby, but they still blocked off West 23rd Street, where the blast happened. Some subway entrances remained closed.
Gov. Andrew Cuomo told reporters on Sunday that "a bomb exploding in New York is
obviously an act of terrorism
," but that there was no evidence tying the blast to known terror organizations.
"My friend thought it was thunder. I said, that doesn't sound like thunder," said Crissy Holland, who lives a block uptown from the explosion. "It sounded like someone took a barge and threw it all the way off a building."
Wendy Baboolal said she had just arrived in New York from Trinidad and was taking a nap in her hotel room half a block west when the detonation shook her awake.
"I was asleep and it rocked me. I felt it in my chest," she said. "When I looked out the window, I saw people just running."
When Baboolal walked outside, "I saw a lot of people, a lot of cops, the fire people, a lot of ambulances were here," she said. "It was frenzied, people wondering what happened."
A tense calm was restored within minutes as police began closing off nearby blocks and moving onlookers away. People leaving restaurants and a play in the neighborhood stood around checking their phones for news.
Baboolal said she visits New York frequently and sometimes stays with an aunt upstate. But "I love the city, so I wanted to be in the city itself," she said. "I wasn't scared. I love New York so much, so what's the problem?"
Read more: http://www.cnn.com/2016/09/18/us/new-york-chelsea-mood/index.html