Sea level rise is making floods more common and as the New Jersey resort braces for the next Sandy, the well-heeled Florida city is throwing money at the problem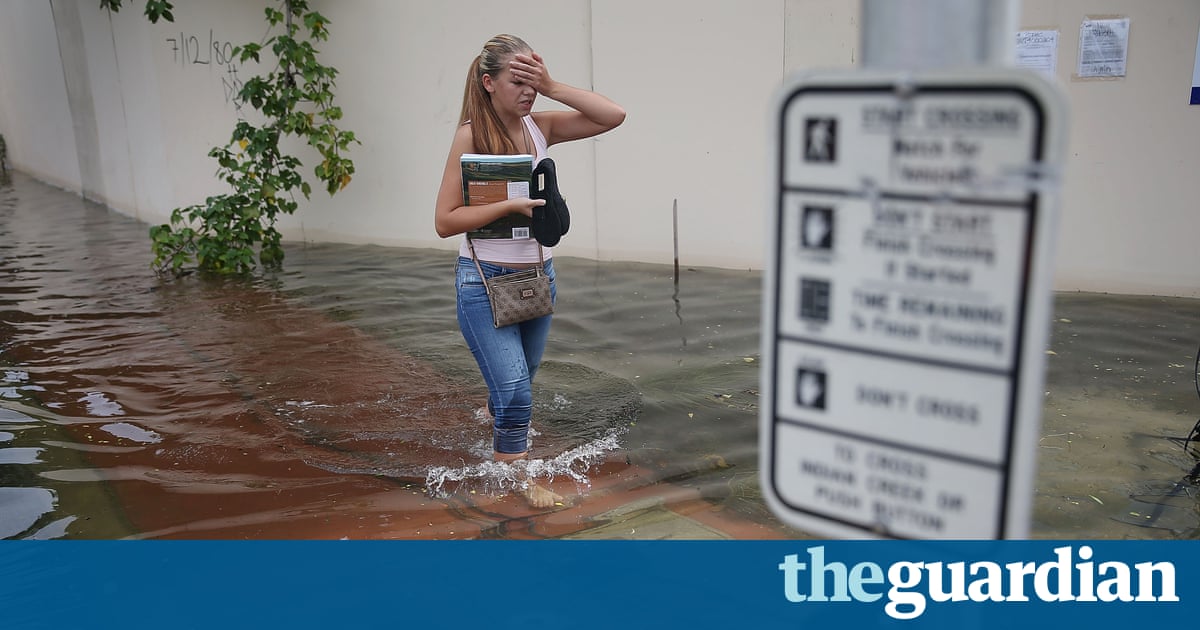 The Irish Pub near Atlantic Citys famed boardwalk doesnt have any locks on the doors as it is open 24 hours a day. So when Hurricane Sandy crunched into what was once known as the Las Vegas of the east coast in 2012, some improvisation was needed.
Regular drinkers helped slot a cork board through the frame of the door, wedging it shut and keeping out the surging seawater. The wild night, which severely damaged more than 320 homes and caused a week-long power blackout, was seen out by those taking shelter with the help of several bottles of Jameson.
But Sandy was just the headline act among increasingly common flooding events that are gnawing away at the thin island upon which the city sits.
Sandy, as devastating as it was, isnt the greatest barometer because we have flash floods, said Cathy Burke, who has run the Irish Pub since 1973. Burke, a gravelly voiced institution along the boardwalk, has hoarded treasures from Atlantic Citys zenith. The upstairs of the pub is replete with vintage furniture, gramophones and china dogs.
We can have floods at the drop of a hat, Burke said. Without even realizing were going to have them. Itll be raining and within seconds youll see flooding in the street. You dont read about it in the paper. You dont hear about it on the radio or television. You just have water that just comes up and if you dont have warning and move your car, you have water in the car.
These flooding events have increased seven-fold in Atlantic City since the 1950s, according to the National Oceanic and Atmospheric Administration, and are spurred by rainfall or simply a spring tide abetted by unhelpful gusts of wind.
The casinos and boardwalk are protected on the ocean side by a network of beach dunes. But the western side of the city, where few tourists venture and poverty lingers, is more vulnerable. Several times a month water swells in the bay behind Absecon Island the barrier strip dotted by the resorts of Atlantic City, Ventnor, Margate and Longport and with nowhere to go can slosh into the streets, wrecking cars and stranding residents.
The rising ocean, fed by melting glaciers and the expansion of warming water, is piling up water along Americas entire eastern seaboard. To compound the problem much of the mid-Atlantic coast is sinking, a hangover from the last ice age, meaning life and property is being swamped like never before.
And yet with no overarching national sea level rise plan and patchy commitment from states, many coastal communities are left to deal with the encroaching seas themselves. Wealthier areas are raising streets and houses, erecting walls and pumps. Those without the funds or political will have several state or federal grants they can access but often make muddled choices in the face of this sisyphean task.
There is no central place that makes all the decisions, so you get one town building a pump station to push water out and another town pumping the water back to the same place, said Rouzbeh Nazari, an environmental engineering expert at Rowan University.
Nazari is critical of outdated flood maps, risky building in areas prone to flooding and what he considers an undue haste to buy up water-ravaged houses on the cheap to compensate homeowners rather than improve ragged coastal defenses.
It kind of feels like weve just given up, that we cant do anything about it, he said. Im less worried about a Sandy-like event than nuisance flooding. They are losing 20 cars a month to nuisance flooding on Absecon Island. We need a regional solution but New Jersey has no specific plan to deal with it.
A spokesman for New Jerseys department of environmental protection disputes claims that it lacks a plan, pointing to work with the army corps of engineers over future levees and a solution to inadequate stormwater systems that can exacerbate flooding.
We will be working very closely with coastal communities in identifying problem areas and the best ways to deal with them, the spokesman said. Chris Christie, the New Jersey governor, has previously said there was no evidence that Hurricane Sandy was linked to climate change. Asked about flooding at Cape May last year, Christie said: I dont know what you want me to do, you want me to go down there with a mop?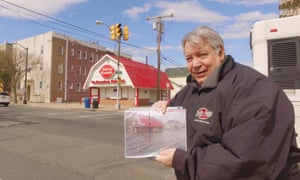 Read more: https://www.theguardian.com/us-news/2017/mar/20/atlantic-city-miami-beach-sea-level-rise