President says bill meant to prevent another financial crisis is crippling the economy as critics charge that Trump is caving in to Wall Street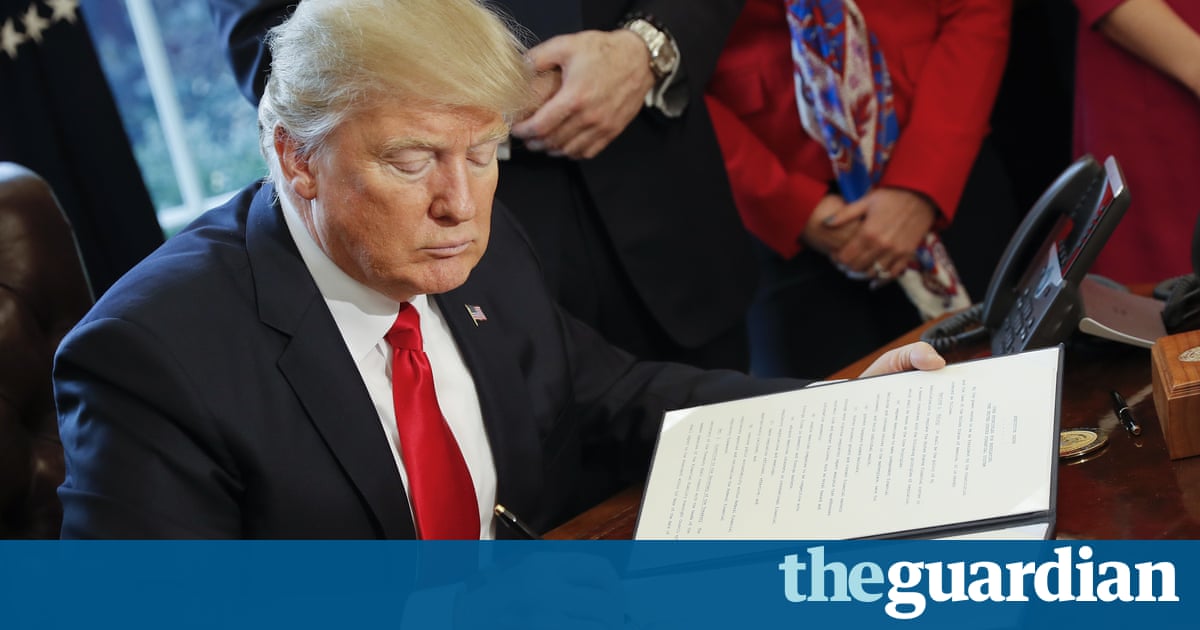 Donald Trump moved to roll back the financial regulations brought in after the last financial crisis on Friday, directing a review of the Dodd-Frank Act, which was enacted to ensure there would never be another 2008-style meltdown.
The US president said his latest executive order was necessary because the regulations were too onerous on business and hurting the economy. But the move was largely symbolic only Congress can rewrite the legislation.
A second directive is expected to halt the implementation of an Obama-era rule that would have required brokers to act in a clients best interest when providing retirement advice, rather than seek the highest profits for themselves.
We desperately need to overhaul how we approach financial regulation, said the White House press secretary, Sean Spicer. He said Dodd-Frank was a disastrous policy that was crippling the US economy.
Opponents of reform immediately accused Trump of caving in to Wall Street after a campaign pledge to hold banks accountable.
Donald Trump talked a big game about Wall Street during his campaign but as president, were finding out whose side hes really on, said Senator Elizabeth Warren, one of Trumps fiercest critics.
The Wall Street bankers and lobbyists whose greed and recklessness nearly destroyed this country may be toasting each other with champagne, but the American people have not forgotten the 2008 financial crisis and they will not forget what happened today.
Before signing the order, Trump met with his business advisory panel, which includes 18 executives from large US companies including GE, Citigroup, General Motors, Tesla and Disney.
We expect to be cutting a lot out of Dodd-Frank, because frankly I have so many people, friends of mine, that have nice businesses and they cant borrow money They just cant get any money because the banks just wont let them borrow because of the rules and regulations in Dodd-Frank. So well be talking about that in terms of the banking industry, Trump said.
The president was backed by Gary Cohn, director of the national economic council and a former Goldman Sachs banker. Americans are going to have better choices and Americans are going to have better products because were not going to burden the banks with literally hundreds of billions of dollars of regulatory costs every year, Cohn said in an interview with the Wall Street Journal. The banks are going to be able to price product more efficiently and more effectively to consumers.
Cohn, formerly the chief operating officer at Goldman, said the executive order was a table-setter for a bunch of stuff that is coming.
On the campaign trail, Trump accused Hillary Clinton and his Republican rival Ted Cruz of being in bed with Goldman Sachs. He also said hedge funds were getting away with murder.
Read more: https://www.theguardian.com/us-news/2017/feb/03/trump-dodd-frank-act-executive-order-financial-regulations