How I Learned to Love SoCal and Forget the Housing Bubble
 This past weekend I was looking at communities across the United States that are now being built to house renters. So why is that even worth mentioning?
Rentals are always part of the housing mix
typically in the form of apartments. Yet this is something different in that it is a suburban built cookie-cutter individual home market that can easily be selling these homes, but instead they are designed for rentals. Welcome to the United States of Renters (USR). As I've discussed before many Millennials are built for rental properties. You usually hear from Taco Tuesday baby boomers that housing is the only option on the table. But the reality is, housing is a drag on the economy in terms of innovation. What is more innovative, designing an iPhone, Tesla, supply chain machine like Amazon, or building a home? Newsflash, people have been living in homes since humankind has been around (from caves to huts). So to have an insane amount of money going to a housing payment keeps discretionary money from funneling back into the entrepreneurial side of our economy which is really what separates our country in terms of innovation. That is, until we get too obsessed with real estate as we did leading up to the last housing bubble. The good news however is that the market is adapting to providing more rentals to Americans and the demand is not slowing down.
Value of Rental Market
Verify your mortgage eligibility (Nov 28th, 2021)
First things first, the housing market is hot but so is the investor portion of the market in terms of rentals: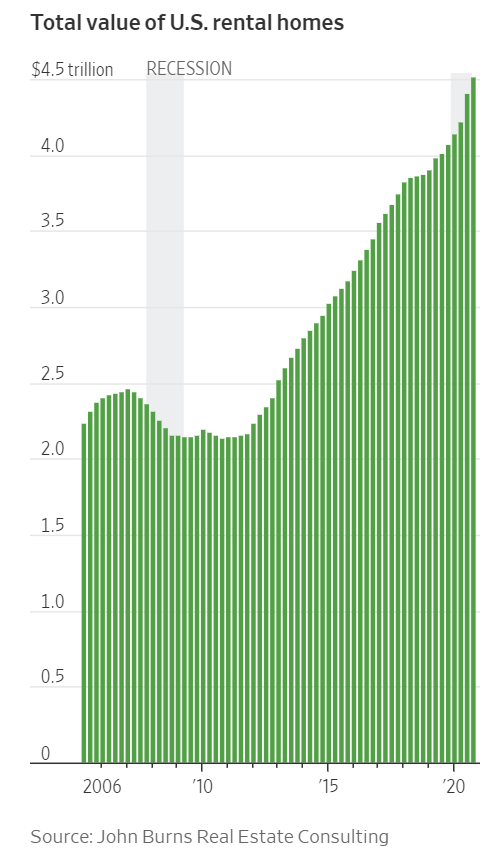 The value of rental real estate has gone from $2.2 trillion in 2014 to $4.5 trillion today (a 104% increase in 7-years). The single-family home rental market has far outpaced that of regular housing stock which is going up too: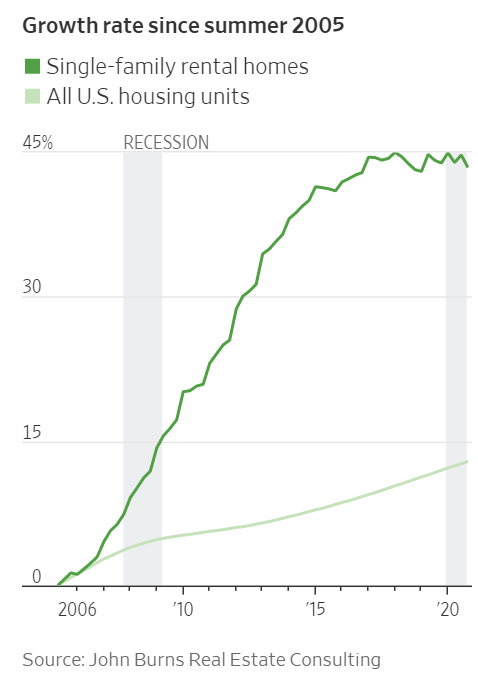 Why is that? First, you have many investors including pension funds, hedge funds, foreign buyers, and small investors chasing real estate as an asset class. Given that inflation is high, people want a stable store of value. These are not crap shack hunting boomers but investors that see real estate for what it is, another asset class. Most of the cheerleaders want to tug on your heart strings about having a safe place to raise your family, or stability, or other emotional arguments but the reality is, most American home buyers sell their first home in 7 to 10 years (not exactly a long-term commitment there). Also, when you pay your home off, you still have property taxes, maintenance, insurance, and other upkeep that can be very high (possibly the cost of a rental in a more affordable market).
Verify your mortgage eligibility (Nov 28th, 2021)
It is also worth noting that with many Millennials not having kids or waiting later in life to have children, they are more focused on advancing their career which typically means being flexible and not being tied down to an albatross of a mortgage early in your career.
Investors of course are targeting more affordable states and these are places where home values are moving up much faster than expensive enclaves that are experiencing a Brazil effect – high cost real estate in tiny pockets with extraordinary poverty just a few miles away (think of Los Angeles).
Take a look at some of these states where investors are buying:
Verify your mortgage eligibility (Nov 28th, 2021)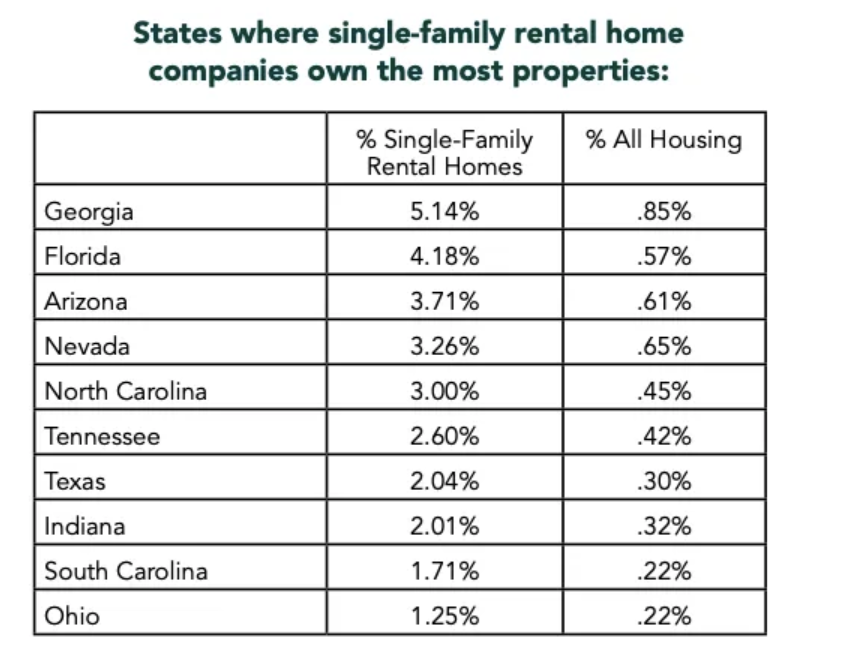 Notice something? These are also states that are seeing fast growth in their populations and economies because housing is much more affordable. In California, the NIMBYism of homeowners is insane. Many are buying homes today at insanely inflated prices and now carry an albatross around their neck for decades to come. You also don't need high homeownership rates to have a successful economy.
Other Countries Homeownership Rates  
Some seem to think that a high homeownership rate is critical to having a vibrant economy. Not so. Take a look here:
Verify your mortgage eligibility (Nov 28th, 2021)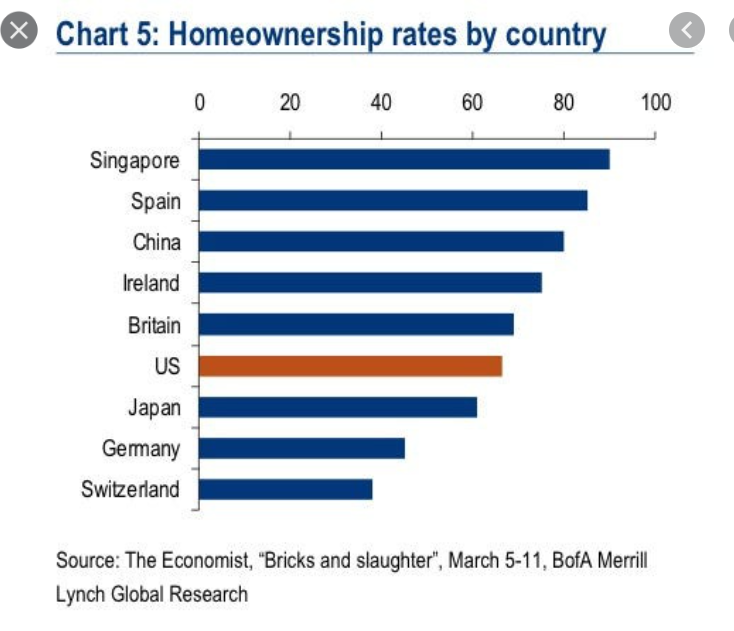 Japan, Germany, and Switzerland all have lower homeownership rates and more income equality while still being very productive economies (and less poverty as well). Spain has a very high homeownership rate yet the economy is struggling.
So why do I suggest that this rental trend is going to continue? First, generational differences and the ability to flex workspaces is here to stay. So everyone is going back into the office? Okay, but guess what? Many large organizations now realize they can do a lot of work remotely and many realize that having flexibility is incredibly valuable, and more productive than being stuck in traffic. So you will get more people open to leaving high cost areas to more affordable markets. This will be especially true if people try to force the workforce to go back to an 8 to 5 environment. For the most part, it seems like those wanting the old work schedules are older Americans that are technically inept and simply want to control their flock of workers in an old school way to justify their wages. Some jobs require you to be in person but those that flourished during the pandemic will have a tough time retaining talent if they don't adapt. Tech companies are going with more hybrid schedules which provides more flexibility and the power to attract more talent, from anywhere around the world.
Also, younger Americans carry heavier student loan debt so they are already saddled with expenses and realize taking on more debt for a home may not make sense (or is not feasible). In California 2.3 million young adults live at home with their parents because they cannot even afford a rental, let alone buy a home. The big money in pension funds and hedge funds realizes renters are here to stay and are plowing money into that market. That should tell you something.
Show me today's rates (Nov 28th, 2021)