Consumer Financial Protection Bureaus critics want to shut the agency down and claim its structure is unconstitutional and unaccountable to the public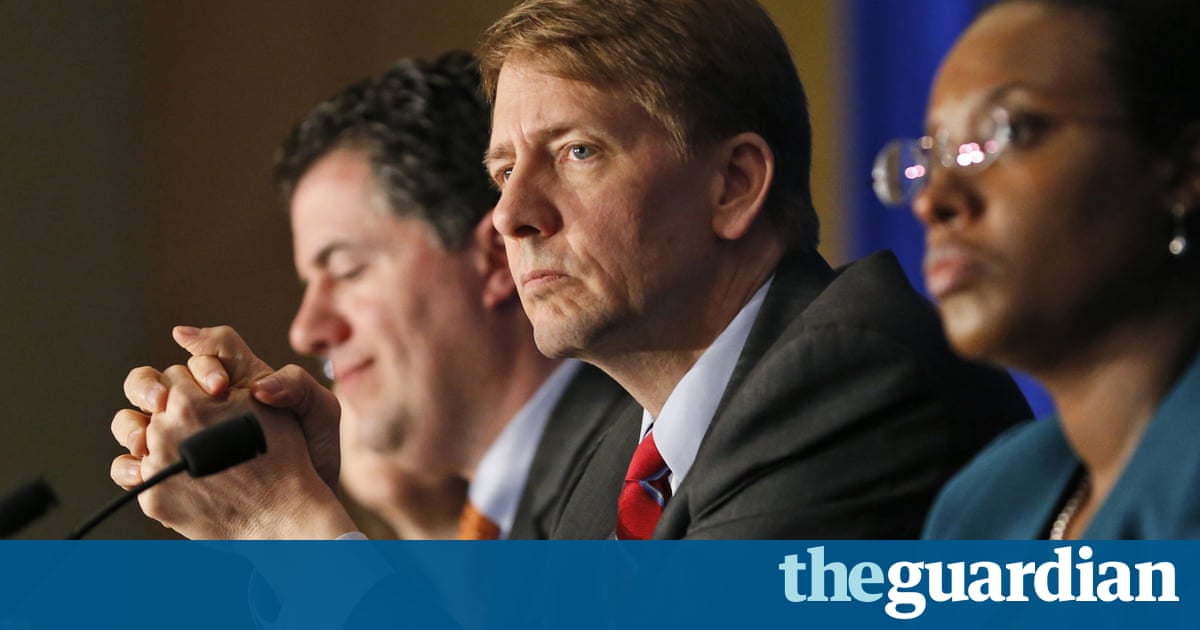 The resignation last week of the chief executive of Wells Fargo should have been a high point for the Consumer Financial Protection Bureau (CFPB).
The CFPB announced in early September that it would receive the lions share of a $185m fine levied on Wells Fargo as punishment for encouraging employees to open millions of savings and credit accounts for customers without their knowledge or consent. The rest went to Los Angeles regulators and the Office of the Comptroller of the Currency.
Then came congressional hearings, at which Stumpf one of those rare individuals whom Democrats and Republicans could agree was a villain embarrassed himself by fumbling the questions and passing the buck up to his board of directors and down to the rank-and-file employees who actually opened the accounts.
Nor was that the only highlight for the CFPB of late. The agency has issued new rules governing prepaid cards, an alternative to checking accounts used by large numbers of unbanked Americans who cant afford the rising fees traditional banks levy on checking accounts, or for whom banks decline to open accounts.
As the wealth gap has widened, the prepaid industry has soared, from being worth $1bn in 2003 to $65bn by 2012. Users tend to be among the more vulnerable members of society: making less than $50,000, renters rather than homeowners, minorities and women, according to research by the Pew Charitable Trusts.
In other words, they tend to be vulnerable to abuse or simple misunderstanding. The CPFBs new rules will require clear disclosure about what fees the card issuer will charge to check a balance, for instance, and ensure that losses will be limited to what a conventional debit card holder would face if their card was lost or stolen.
So far, so good for the CPFB. A US appeals court, however, rained on the agencys parade, while members of Congress and others raised questions about whether the CFPB has embarked on some kind of power trip.
The court was considering an appeal in a case involving whether the CFPB had the right to impose a $103m fine on mortgage service PHH, for allegedly taking kickbacks for directing customers to a particular insurance company. The case reached the US court of appeals for the District of Columbia, where a three-judge panel headed by Brett Kavanaugh, a George W Bush appointee, handed down its ruling last Tuesday.
Unconstitutional, Kavanaugh thundered. Not the CFPB itself, but its structure, which is headed by a single individual, Richard Cordray, who serves for a fixed term. Typically, heads of such agencies serve either at the presidents pleasure or as part of a group, such as the five-member Securities and Exchange Commission.
So much for the brief, fleeting moment of bipartisanship as Democrats and Republicans joined in bashing Stumpf.
If you believe Republicans, the CFPB part of the Dodd-Frank reforms that followed the financial crisis of 2008 is, in the words of Kavanaugh, a grave threat to individual liberty, a phrase he used once every three pages or so in his 98-page decision.
Investors Business Daily agrees. The CFPB is an out-of-control and dangerous entity, it wrote the Frankensteins Monster of federal regulatory agencies that is almost entirely unaccountable to the public.
Translation: the CFPBs critics want to shut the agency down lest it become even more effective, and are taking a weird and sometimes mutually contradictory variety of approaches to doing so.
When the CFPB has been slower than it might have been to act, as in the case of Wells Fargo, Republicans have taken delight in accusing it of being asleep at the switch, in the words of Texas representative Jeb Hensarling, the CFPBs chief critic in the House.
When the CFPB has been proactive in its core areas mortgage lending, credit cards and student loans this has also attracted criticism. For instance, while its mission didnt include looking at for-profit colleges, the agencys emphasis on student loans led it realize that a disproportionate number of problems were tied to entities such as Corinthian colleges and ITT Technical Institute, which took advantage of the student loan system while at the same time misrepresenting graduation rates. It sued both schools for predatory lending, prompting their collapses.
Still, in at least one case, a federal judge (another George W Bush appointee) denied the agency access to information about how an accreditor signed off on programs offered by these colleges.
Although it is understandable that new agencies like the CFPB will struggle to establish the exact parameters of their authority, they must be especially prudent before choosing to plow headlong into fields not clearly ceded to them by Congress, tsk-tsked US district judge Richard J Leon.
Last weeks ruling could have been a lot worse, and Hensarling is probably gnashing his teeth in fury, wishing that the DC court had gone further. Cordray will now serve at the presidents pleasure, rather than for a fixed five-year term unless the agency appeals and the decision is overturned.
This isnt impossible: its hard to argue how the presence of a single individual at the helm of an agency offers a threat to liberty, unless the agency under that individual restricted the ability of those it regulated to access the court system to complain about its judgments. The fact that PHH did precisely that in this instance is evidence that theres no tyranny at work.
What Hensarling and his buddies are really irate about is that the CFPB gets its funding independently thats the lack of accountability that Investors Business Daily was getting huffy about. In other words, its not politicized: the CFPB doesnt have to grovel to Congress annually to keep its budget.
The agency has reason to be concerned. Even as Dodd-Frank expanded the list of SEC responsibilities, Congress, perhaps under pressure from the financial services industry, actually cut the amount of money it had to work with.
The SECs 2017 budget will be unchanged, it now seems. But yet again, that entity only narrowly escaped a cut.
In contrast, the CFPB is financially independent of Congress, being funded directly by the Federal Reserve (and collecting its fines, as other agencies do) and that drives Hensarling and other opponents crazy.
They may characterize that as being unaccountable to ordinary Americans, but I think it actually enables the agency to listen to ordinary Americans rather than to the Very Loud Voices of the lobbyists who have a disproportionate impact on Congress.
So far, at least the CFPB doesnt seem to be using any superpowers it might have to threaten my life, liberty or pursuit of happiness.
Read more: https://www.theguardian.com/business/us-money-blog/2016/oct/16/wells-fargo-consumer-financial-protection-bureau-congress-critics