Homeowners who lost homes or face eviction after dealing with bank previously run by Steven Mnuchin call on Senate to reject his nomination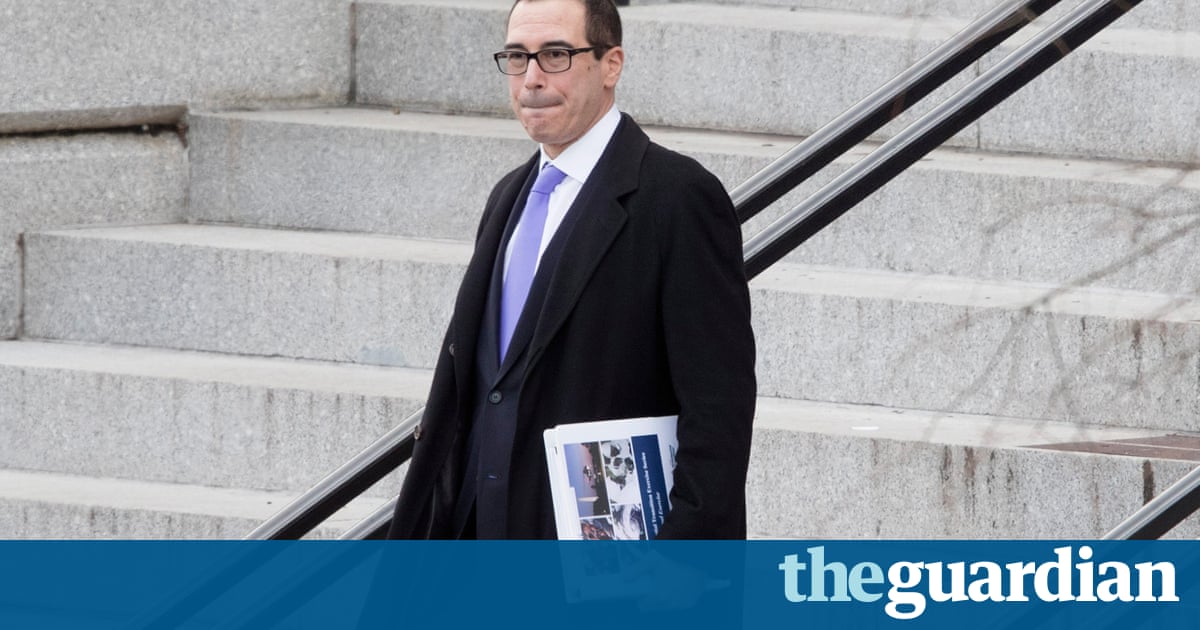 Homeowners who lost their homes or face eviction after running into difficulties with a bank previously run by treasury secretary nominee Steven Mnuchin urged the Senate on Wednesday to reject his nomination.
Donald Trumps pick for treasury secretary had made millions grinding families into the dirt, the conferences organizer, Senator Elisabeth Warren, said while introducing four women who had loans with Mnuchins former firm, OneWest.
Mnuchin, a former Goldman Sachs banker, hedge fund manager, film financier and CEO of OneWest, will appear before the Senate finance committee on Thursday. Warren has been blocked from allowing the unhappy OneWest borrowers to testify at the hearing. The secretary of treasury will personally touch the lives of every single person in the US, Warren said. We have had a chance to hear about the lives of four people [Mnuchin] has touched, and the results were devastating.
Mnuchin led a team of investors that took over California-based lender IndyMac in 2009 after the bank was undone by its portfolio of risky loans. The entity was renamed OneWest and, according to critics, embarked on a concerted effort to foreclose on loans and seize borrowers properties.
Among those who spoke at the meeting was Colleen Ison-Hodroff, from Minneapolis, Minnesota. The 84-year-old and her husband, Monroe, bought a reverse mortgage on their fully paid-off home through OneWest subsidiary Financial Freedom. Reverse mortgages are typically bought by retirees looking to supplement their retirement income.
Ison-Hodroff told the hearing that a broker assured the couple that Colleen could remain in the house that had been their home for 54 years even if her husband died. But days after her husbands funeral in 2014, she received a notice that she had to immediately pay off the full balance of her loan or face foreclosure. She is still fighting to keep her home.
I do not think a man like that should be treasury secretary and be in charge of the economy, said Ison-Hodroff.
According to an analysis of public data by the California Reinvestment Coalition, OneWests reverse mortgage servicing subsidiary, Financial Freedom, was responsible for 40% of reverse mortgage foreclosures nationwide, more than twice its 17% share of the market.
A disproportionately high number of OneWest Bank foreclosures occurred in minority communities in California, according to an analysis by Urban Strategies Council and released by the California Reinvestment Coalition.
Warren has called OneWest a foreclosure machine and Mnuchin the Forrest Gump of the financial crisis he managed to participate in all the worst practices on Wall Street.
Another witness, Heather McCreary, from Sparks, Nevada, said her family was made homeless by OneWest after that the company refused to renegotiate their home loan. Sylvia Oliver, from Scotch Plains, New Jersey, claimed OneWest repeatedly refused to work with her to modify a loan. I dont think this is a track record anyone should be proud of, she told the hearing.
Mnuchin is expected to robustly defend his record at the hearing Thursday. According to prepared remarks obtained by Bloomberg, Mnuchin will tell the committee: Since I was first nominated to serve as treasury secretary, I have been maligned as taking advantage of others hardships in order to earn a buck. Nothing could be further from the truth.
If we had not bought IndyMac, the bank would likely have been broken up and sold in pieces to private investors, where the outcome for consumers could have been much bleaker, Mnuchin said. My group had nothing to do with the creation of risky loans in the IndyMac loan portfolios.
Read more: https://www.theguardian.com/us-news/2017/jan/18/steven-mnuchin-treasury-nominee-elizabeth-warren-hearing